Hunsrück area Germany
The Hunsrück is a low mountain range in Rhineland Palatinate, Germany. This area is excellent for both relaxing as well as sportive holidays. The Hunsrück area is popular among people who like to ride horses, mountainbike, to tour with their motorcycles, or people who like hiking.
Below are some links to pages which explain why the Hunsrück area in Germany is so popular among tourists.
Links
Please take a look at the following websites:
Hiking in the Hunsrück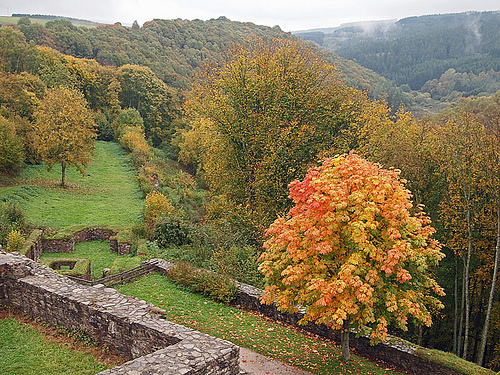 Whether your used to short walks, full-day hiking trips or maybe Nordic Walking", our vicinity has got it all. Take a look at www.naturpark.org or www.hunsruecktouristik.de.
Contact us and together we can make routes which are exactly to your liking.
Who are we?
We are Rinus and Nellie Verfuurden, happily married for over 40 years and parents of 3 sons.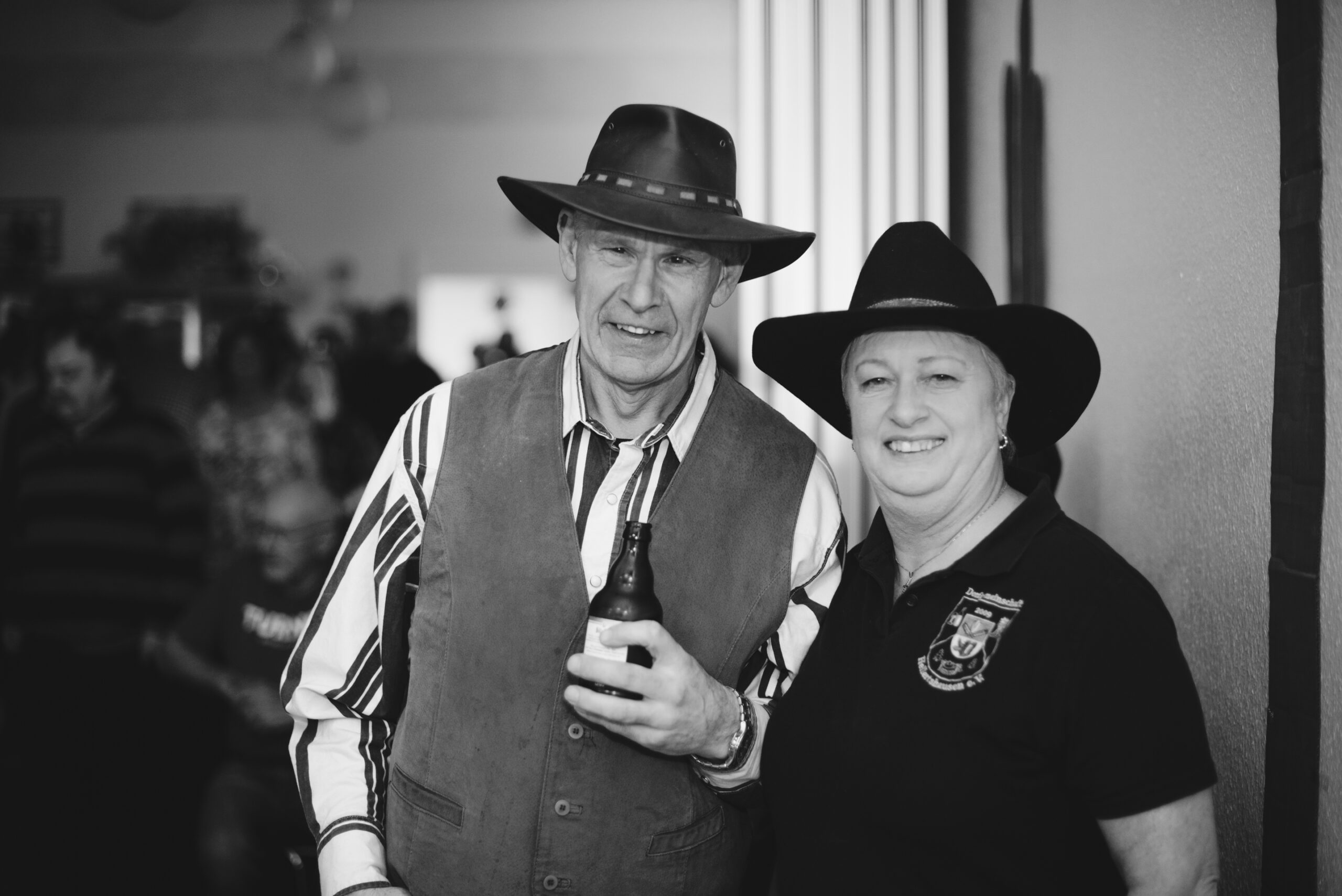 We are from Eindhoven (the Netherlands) and we have seen some things from all over the world. Now we live in the 'Hunsrück' low mountain range, where we've found this beautiful farmhouse. There is about 12 ha of grassland, tree yard and stables so no lack of space. We are social people and enjoy hosting for our guests. Together with our cat Dabby we are enjoying our time here very much.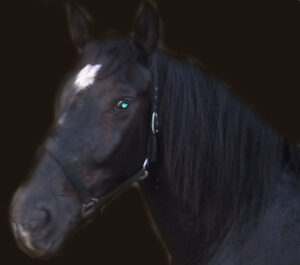 Rinus likes to spend his time with construction and home improvement. And he likes to go out riding on the back of his buddy Jacky. Horses are his life. Our horses have a so-called open stable. The herd will enjoy their grassland and the horses can walk in and out of the stable as much as they want. We grow our hay for the winter on our own land, and also we cut and take care of the horses' hooves by ourselves. We currently have a herd of seven horses under our care.
Nellie is a true hostess. She enjoys entertaining guests and taking care of the animals. She is busy with maintaining her vegetable garden and fruit trees. She also pickles the vegetables and fruits in traditional ways. Another thing she enjoys is dancing. She founded a line-dance group in the little village, where she teaches other people the art of line-dancing. Every week there is repetition in the community centre. There is also a bar where other poeple from the village drink a beer, wine or soda to embrace the start of the weekend while enjoying a view of the dancing people. Everybody is welcome and it's always a social hapening.
horseback riding in Hunsrück Germany
Because we have more than enough meadows and there's one right next to the ranch, we offer the possibility to bring your own horse. For just € 5,- a night he or she can stay on this meadow with walk-in stable.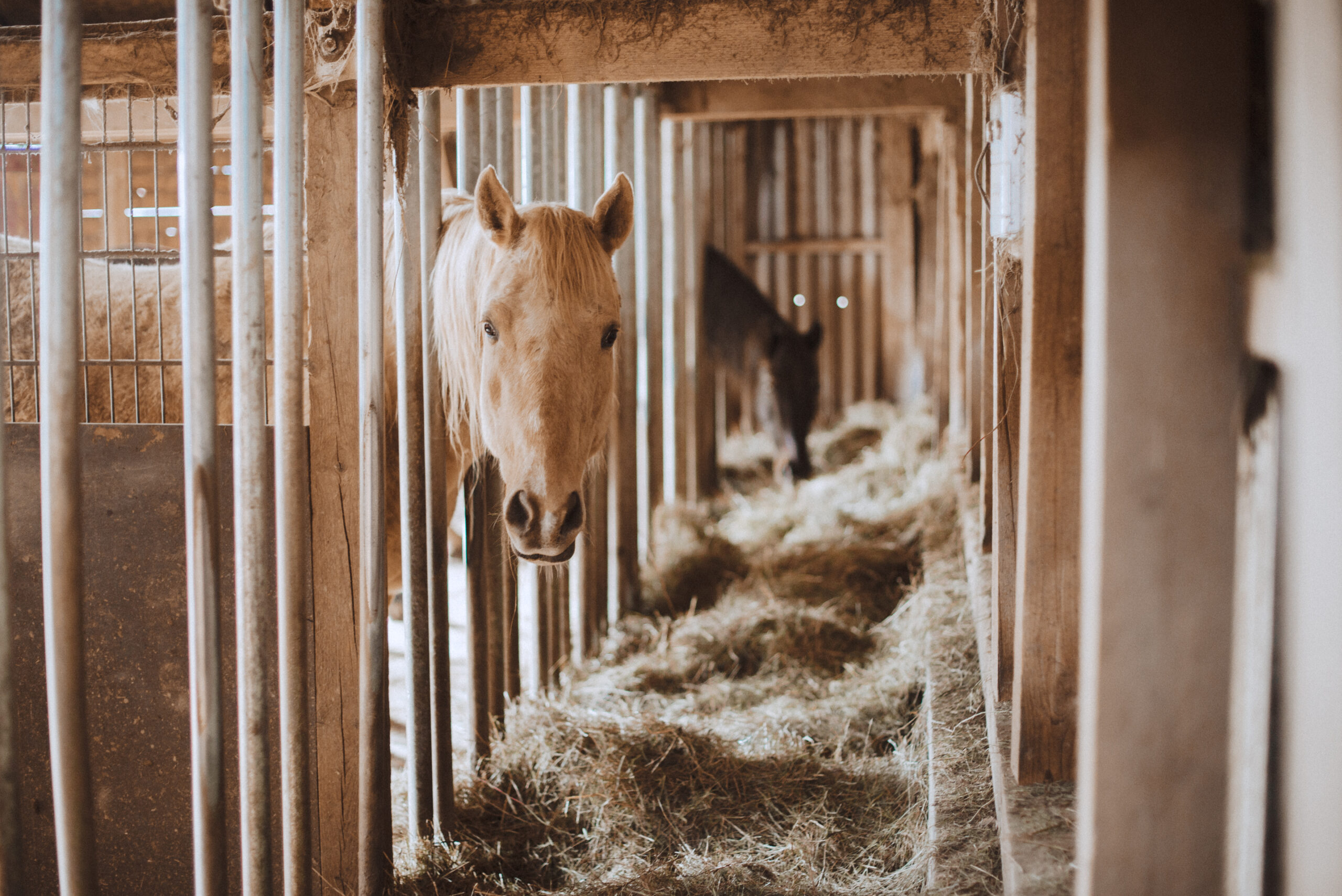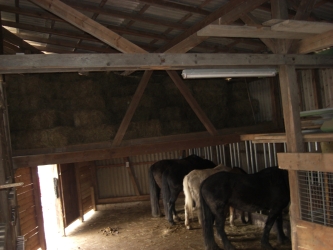 Group trips on horses with an experienced guide.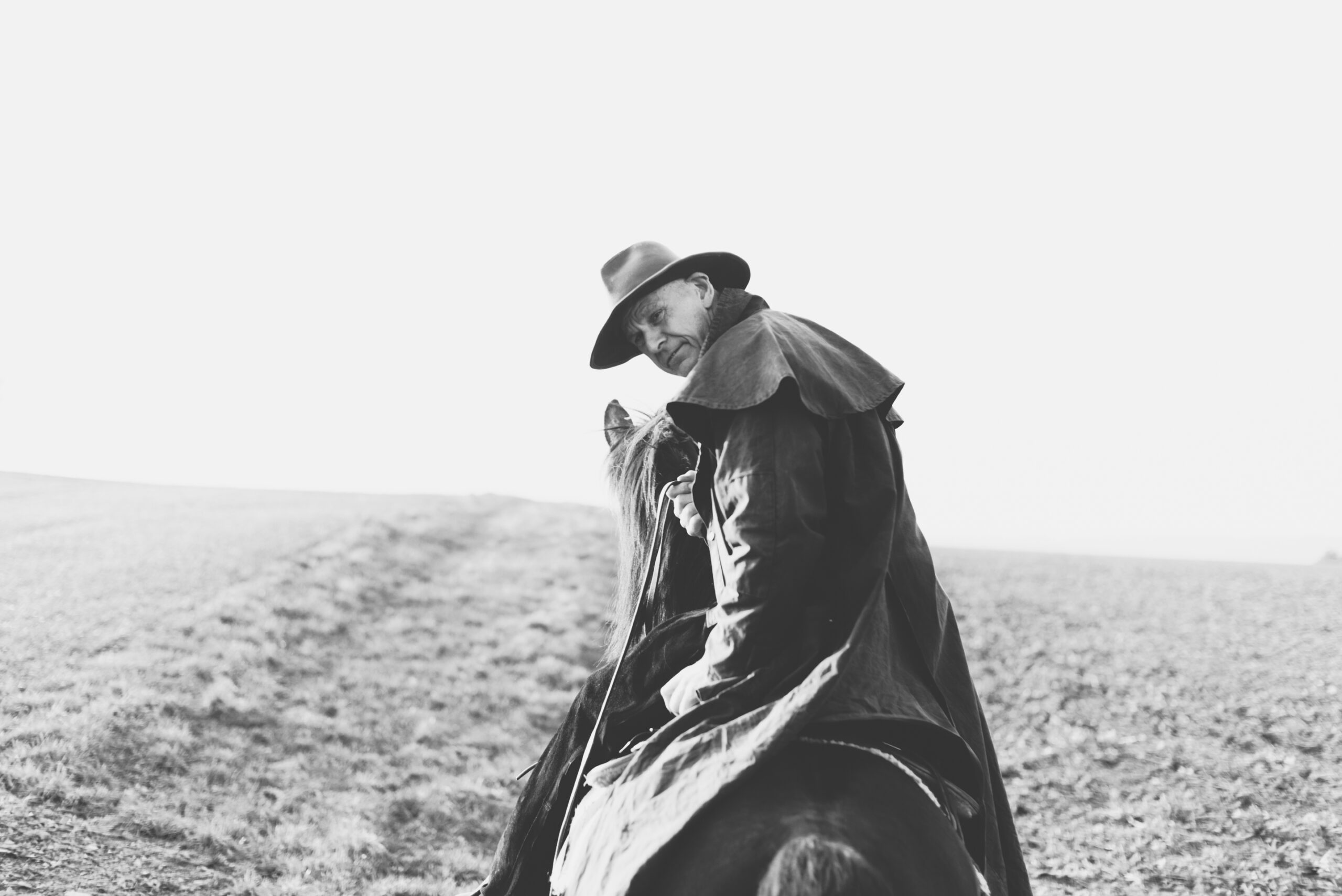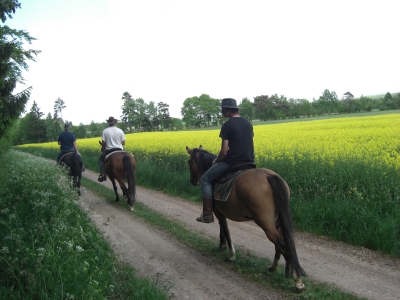 If you do not own a horse but you still want to enjoy a trip horseback riding, you can ride along with one of our reliable horses.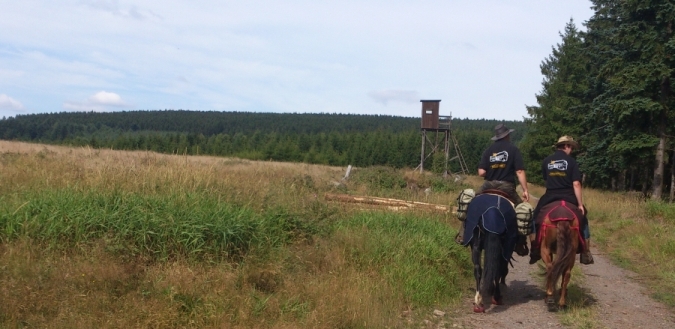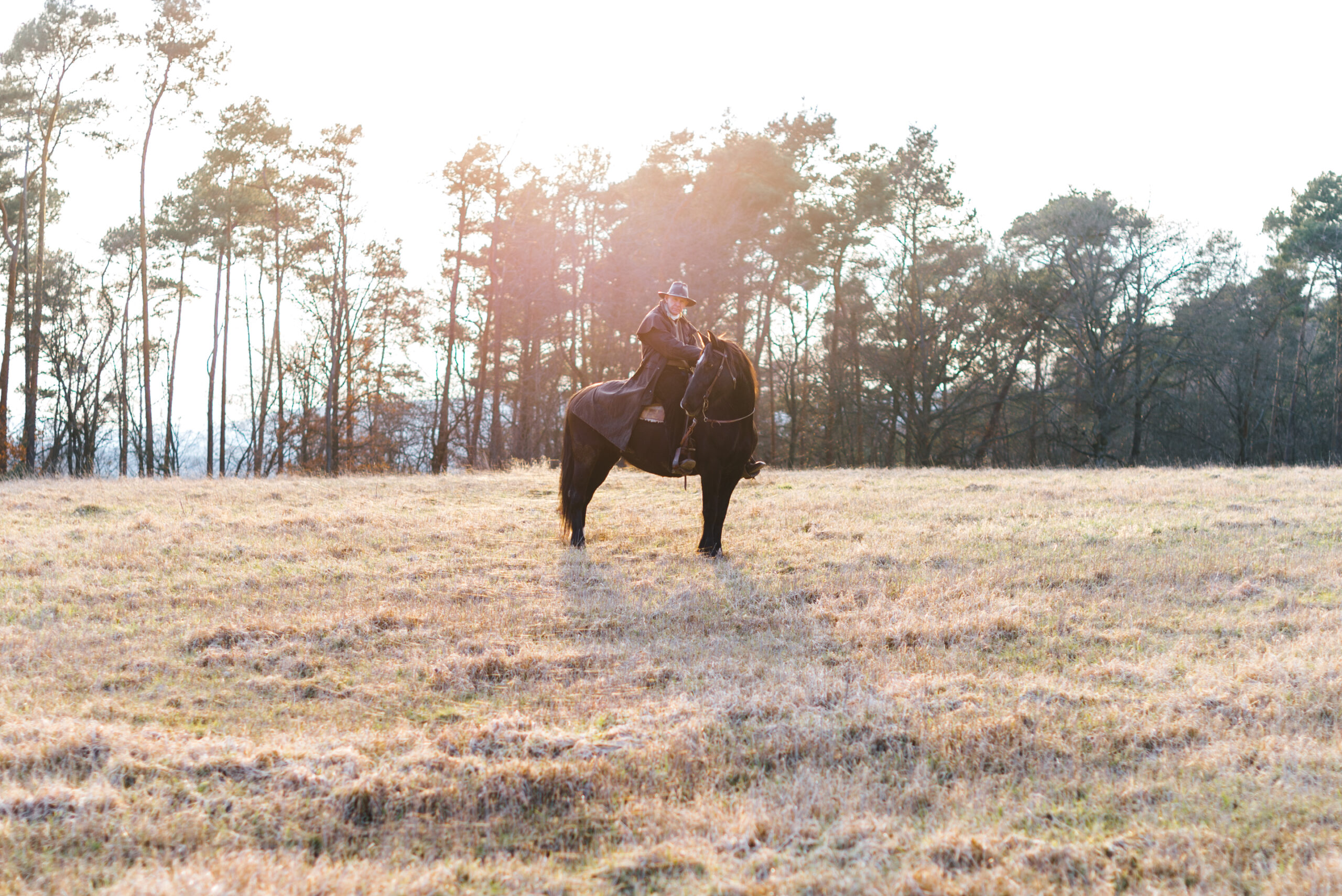 –
Take a look at the Pacakge Deals for what we offer for riding holidays.
–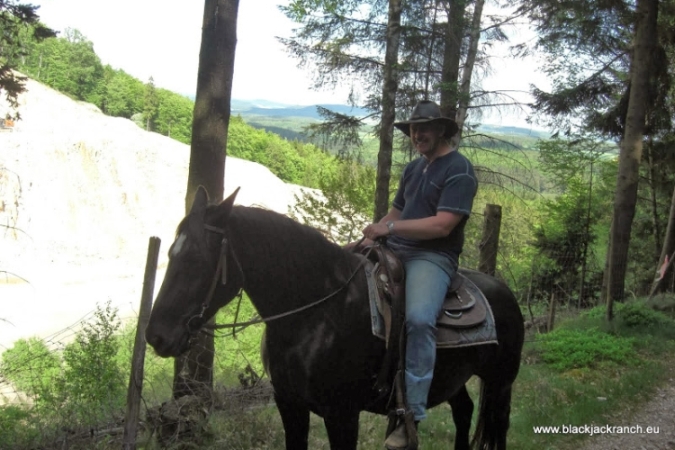 –
–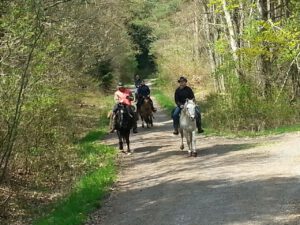 –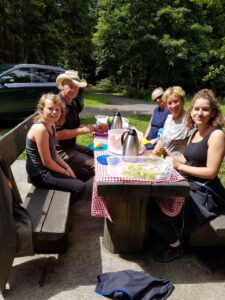 –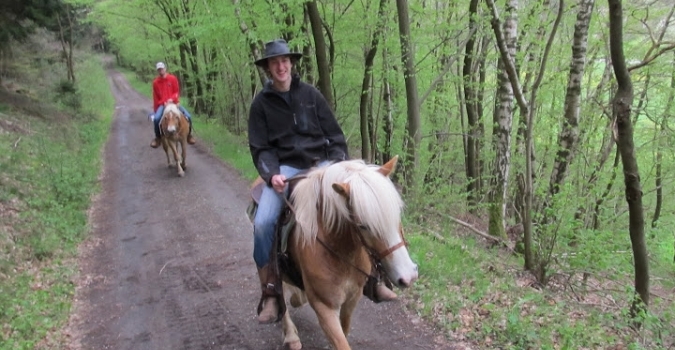 –
Area
In the direct surroundings of the Ranch it's QUIET. You can hear a tractor pass by so now and then, but there's hardly any traffic. Maybe if you listen closely you can hear the little brook which runs through our yard.
Enter the "Vierherrenwald" or "Idarwald", a beautiful piece of nature consisting of pine, oak and beech forests. Panoramic sight can be enjoyed from "Idarkopf" or "Wildenburger kopf".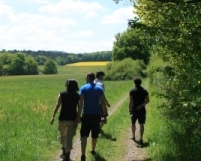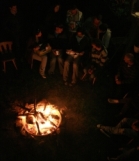 After a full day of enjoying nature we get together with a cozy campfire or we light up the bbq.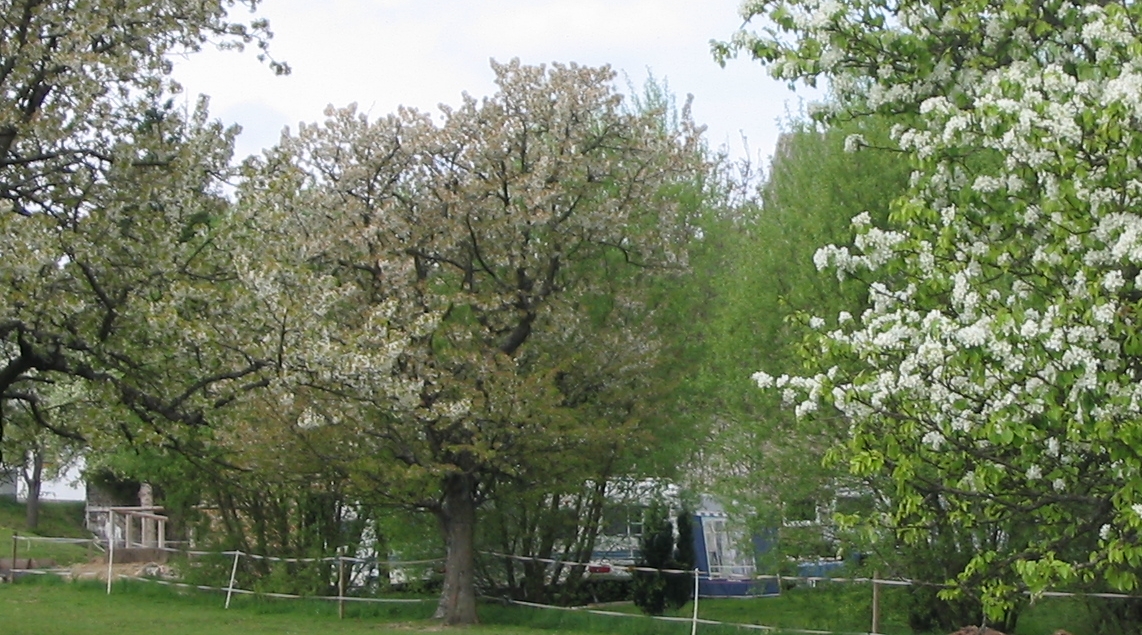 From your tent or caravan you'll have a panoramic view over the fields and you can rest comfortly in the shadow of our walnut tree.
Sights
The following touristic sights are within driving range of BlackjackRanch.
Click on the link to view the corresponding website.
Museums
Deutsches Telefon Museum (telephone museum)
Whiskymuseum / Pub Kyrburg
Flugausstellung (aviation museum)
Feuerwehrmuseum(firefighters museum)
Dampflok-Museum Hermeskeil(Steam Locomotive museum)
Rheinland-Pfälzisches Freilichtmuseum(The Rhineland-Palatinate open-air museum)
History en Nature
Historische dorpskern Herrstein
Kempfeld wildpark
Hunsrück-Fossilienmuseum
Archäologiepark Belginum
Barfußpfad Bad-Sobernheim
Hermeskeil
Idar Oberstein (gemstone city)
Gemstone mine
Gemstonemuseum
Edelstein erlebniswelt(gemstone park)
Museum Idar Oberstein
Schloss Oberstein (Oberstein Castle)
Aiport Hahn
Golfcourt
Go-karts racetrack Hunsrückring
Erbeskopf
Skiën / Sommerrodelbahn (skiing)
Towns along the Moselle with possibility to cruise
Bernkastel-Kues
Traben-Trabach
Cochem
Zell
Mines
Mountainbiking and Cycling in the Hunsrück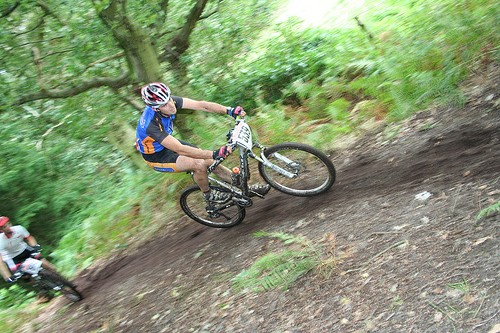 The Hunsrück area is populair amongst bicyclers and mountainbikers. Are you a sporty person and do you like riding your bicycle? Then come to the Hunsrück and maybe our hills are a true challenge for you.
Contact us and we will draw the best and most beautiful routes for everyone ranging from beginners until experts.
There are cyclists passing by regularly who are challenging the hills with some exciting mountain passes.
Motorcycling in the Hunsrück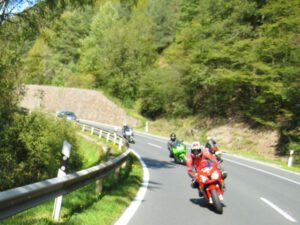 In general, the roads in Germany are in good condition. The Hünsruck is no exception to this. Peaceful touring roads or maybe some challenging hairpin curves, the Hünsruck has got them all. Especially the area around the Moselle is very popular with bikers. When you stay at BlackjackRanch we offer you the possibility to park your bike inside and do some simple maintenance.
The Ranch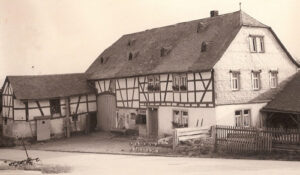 On the edge of the picturesque Hellertshausen stands the oldest house in the village. The house that villagers call "Brunge", was built in the 18th century. The old lattice techniques are well reflected in the construction of the house. Until the 90s, the house served as a farm.
Besides farming, there was also a carpenter workshop attatched to the house. During the winters an extra buck was made in this workshop. Craftsmen manufactured wooden furniture and carriagewheels in this workshop, which has been preserved in authentic state. A nice thing to see. There is also a tree yard where we gather our own fruits. Because the house is situated on the edge of the village, there is an wide open view of the low mountain landscape which provides a beautiful panoramic view.
We have done everything to make horse ownership easier. We have a beautiful grassland next to the house, a practical and a large saddle-place and walk-in stables. This way the farm has been transformed into a real Ranch. Because our first horse is a black mare called Jacky, we decided to name the the ranch after her. Hence the name BlackjackRanch.